Regular price
Sale price
$110.00
Unit price
per
Sale
Sold out
INFORMATION
The Grove's annual Christmas Rum Cask is back for 2023 and this one's a beauty! Whether it's gifted with a beautifully tied bow or carefully stashed away under your own Christmas tree for your personal enjoyment. Crafted with dedication and aged for six years, this limited-edition release has been finished in an ex-Tokay cask for the final 12 months, resulting in a rum that's nothing short of superb, rich, and truly special. Christmas Cask Rum 2023's Tasting Notes Colour: A bright, deep reddish-mahogany tone that captures the essence of the holiday season. Nose: Immerse yourself in the merry, familiar aroma of Christmas cake and fresh toffee, invoking cherished memories of yuletide treats. Palate: The festive blend of caramel and vanilla, perfectly complemented by an infusion of rich spice and the subtle presence of dried fruits, gives the taste of a pudding in a glass. Finish: A warm, smooth, and satisfying long finish, you'll be cheersing to this drop all Christmas long.
BARREL
Ex-Bourbon and finished in Ex-Tokay
DRINK IT WITH
Grandma's Christmas Pudding
DELIVERY
– Free Shipping inside Western Australia
– Flat Rate $15 Shipping Outside of Western Australia
– Free Shipping over $200
– Order by 10th of December to ensure delivery before Christmas.
– More Information
Share
View full details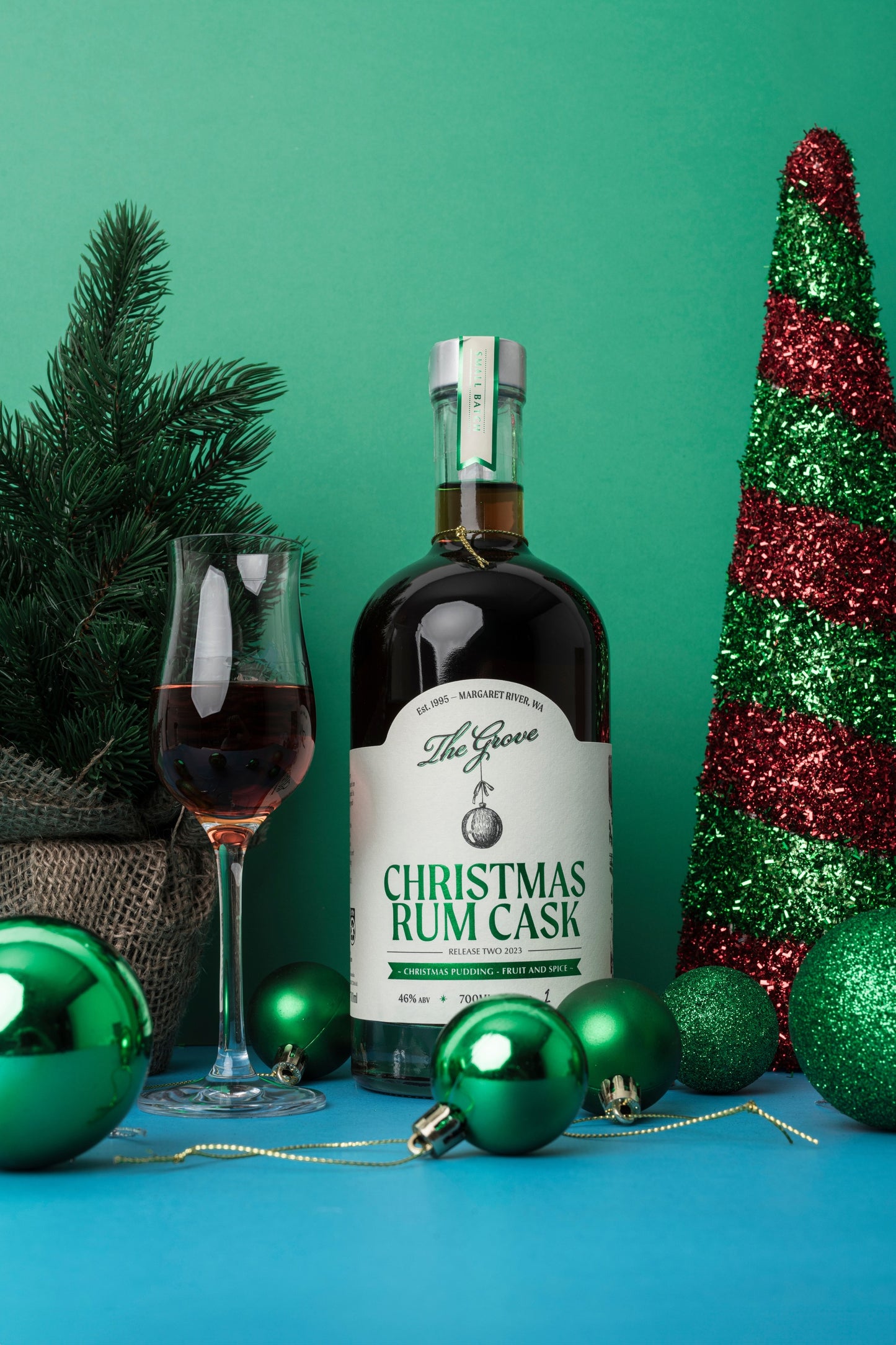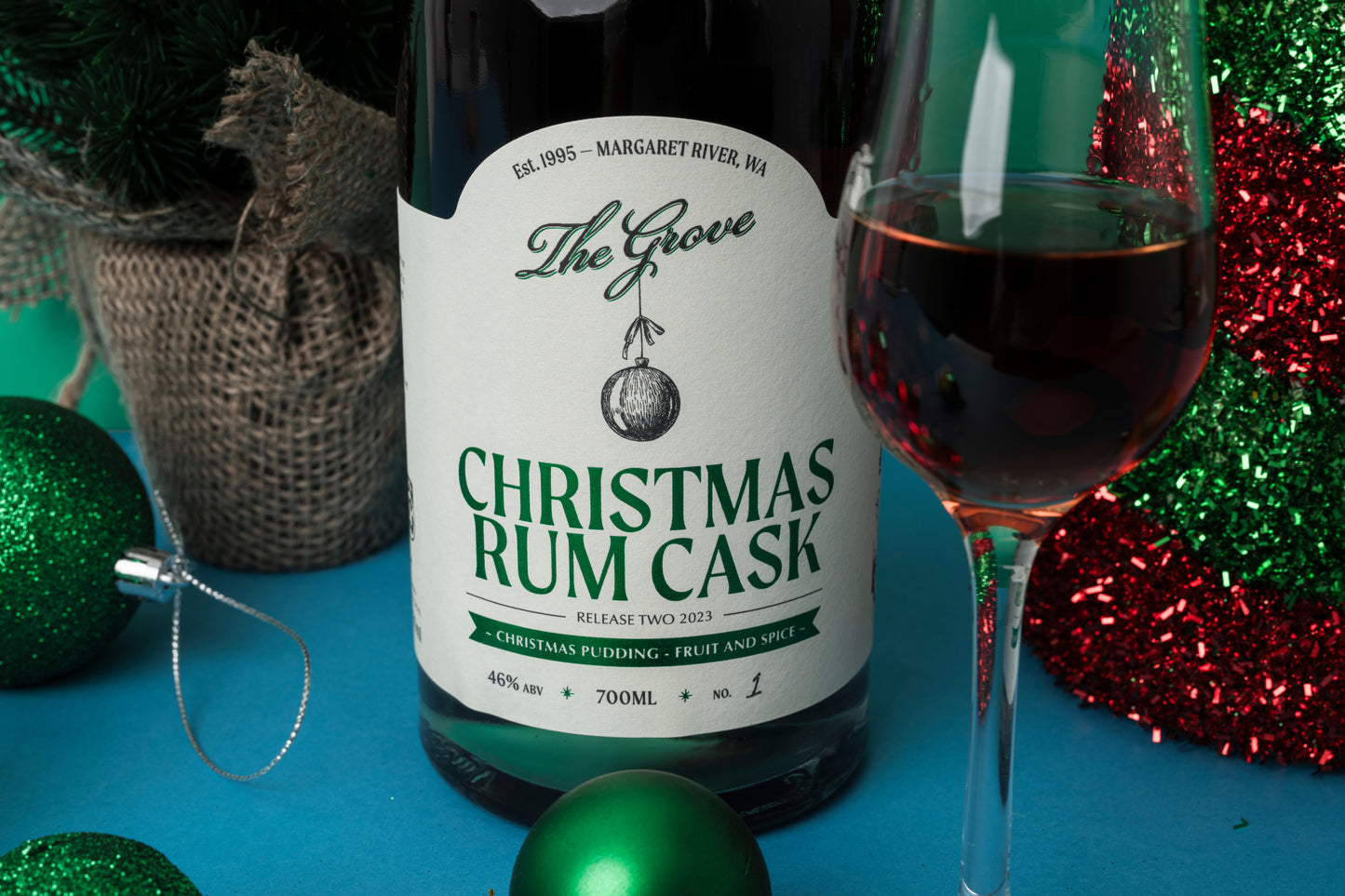 MORE INFORMATION
In 2017 we made our rum mashes from heavy grade A molasses, dark brown sugar, rainwater and yeast and fermented 7 to 10 days in 500 and 1000 litre fermentation tanks to 9% ABV.

The mash was distilled through 5 runs in our 350 litre copper, Arnold Holstein, pot/column combination still to 68% ABV then cut back to 58% ABV with distilled water.
We sourced a fresh 225 litre, French oak ex Cabernet wine cask from a neighbouring vineyard and filled it with the rum, leaving it to age in our barrel stores for over five years.

We then dumped the barrel in September 2022 and filled two ex-Tokay barrels and let this age for a further 12 months in the top of our barrel store, allowing it to soak up the rich sweetness of the 10-year-old Tokay.

The Team dumped the barrels in late September 2023 and James slowly cut the rum back to 46% ABV with distilled water after which it was non-chill filtered and bottled ready for a very special Christmas release. The char of the ex-bourbon barrel imparts some smokiness on the rum and the sweetness of the tokay gives it its distinct Christmas flavours.

Share the Spirit of The Grove and treat the family to an unforgettable Christmas. Own a bottle of this dark-copper rum, enjoy neat, with warmth and spice in every sip. With Christmas cake, slight oak and sweet molasses shining through on the nose, you'll go on to taste sultanas, caramel, vanilla and light spice with a warming soft and sweet lingering finish.